Description
The Apple HomePod speaker is the perfect speaker for smart homes of music lovers who love to explore new and wide variety of aural entertainment. This home audio system features an Apple-engineered Audio Technology and High-end Software to deliver immersive sound, and an A8 Chip for bass-heavy, distortion-free music. Also, it flaunts an aesthetically pleasing design to enhance the interior decoration of your home while delivering powerful audio.
The all-around sound of home
HomePod is a breakthrough speaker that adapts to its location and delivers high-fidelity audio wherever it's playing. Together with Apple Music and Siri, it creates an entirely new way for you to discover and interact with music at home. And it can help you and your whole family with everyday tasks — and control your smart home — all with just your voice.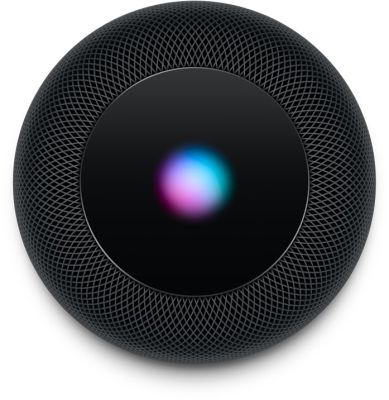 Major sound, minor scale.
This purposefully designed speaker creates rich, nuanced sound that defies its size. HomePod combines custom Apple-engineered audio technology and advanced software to deliver precision sound that fills the room. And at less than 18 centimetres tall, HomePod fits anywhere in your home.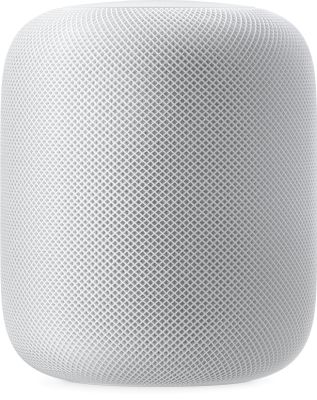 Deep bass with range you can feel.
The Apple-designed high-excursion woofer is positioned at the top of the speaker facing upwards, creating a wide range of deep bass that surpasses any traditional speaker. A six-microphone array, along with an internal bass-EQ microphone, analyses and compensates for the effect of the room on the bass response, providing rich, consistent sound. And a powerful motor drives the diaphragm a remarkable 20 millimetres, so the bass shines through even when the volume is low.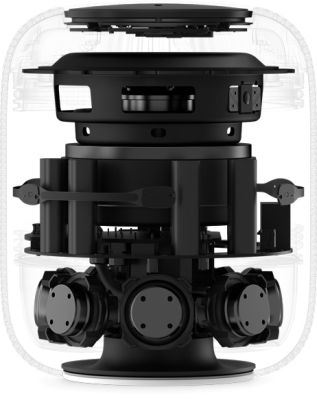 Far and away an incredible listener.
Six microphones positioned around HomePod allow it to pick up all the sound in a room. When you say "Hey Siri", advanced signal processing, together with echo and noise cancellation, allows HomePod to hear you without the need to raise your voice — even if you're across the room with loud music playing. After HomePod recognises the words "Hey Siri", what you say is encrypted and sent anonymously to Apple servers without being tied to your Apple ID.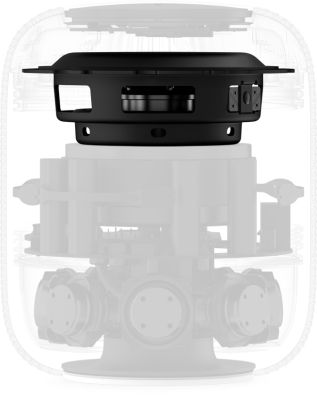 High-fidelity audio that's all around you.
A custom-designed array of seven beamforming tweeters, each with its own amplifier, creates tremendous directional control. Placed around the base and using a folded-horn design, they send the flow of music towards the centre and then out the bottom in a 360-degree pattern, resulting in an all-encompassing sense of space. This virtually eliminates early table reflections and allows for consistent high-definition sound.